Our story
We are Ako and we exist to revolutionise how children are taught. We created Ako, because parents want a school that prepares children for an unknown future, nurtures the whole child, and sets foundations for an ongoing love of learning.
Ako is a future-focused, play-based primary school that provides a learning environment immersed in nature and facilitates learning around each child's interests. We're passionate about learning that is fun, compassionate and creative. We want to empower communities around Aotearoa and the world to start their own Ako spaces.
Ako was founded in 2017 by Sabrina Nagel, who had a strong desire to create a space that would re-imagine learning for her twin daughters.
The Team
Chief Dot Connector, Co-founder
Sabrina's journey is as unique as Ako's. With a brief stint in early childhood education and more recently working in the tertiary sector, Sabrina has a thorough understanding of the challenges faced by the sector but also understands what works for children. With over 8 years of experience working with startup companies, Sabrina drives the business side of Ako. But her true passion lies at the intersection of entrepreneurship, education and sustainability. She loves bringing together people, projects and organisations to explore synergies and create mutually beneficial outcomes and thus achieving high impact. She is a true dot connector. As a mother of five year old twin girls, Sabrina noticed first hand the positive effect of unstructured play. Her own parenting style has been challenged more than once and she attributes the strong connections that she is building with her daughters to following a conscious parenting approach. She started researching education systems and schools around the world and got inspired. But a fruitless search for a learning environment that is aligned with her values and close-by, sparked the idea for Ako.
Co-founder
Kate, a mother of three beautiful and busy boys who lives in West Auckland, loves nature and getting her hands dirty. As a registered primary school teacher, Kate has always been passionate about Play Based Learning. She enjoys reading about parenting and education and has continuously invested in her own professional development to broaden her skill base and be the best teacher she can be. Kate enrolled in an education based startup event and met Sabrina, the rest is history. After being involved in setting up Ako in 2018, Kate has now stepped into an advisory role.
Bronwyn Bayne
CHief Number cruncher
Bronwyn has been helping out behind the scenes at Ako for the last few months and now joined the team to help with the business and admin sides of Ako. She is currently a full-time stay-at-home mother to two delightful boys (2 and 5 years old). Her professional background is in government economic and financial policy and strategy development. As a parent she follows a respectful parenting approach (RIE) and reads widely on child development and modern learning theories and practices. She is a strong supporter of Forest Schools and the children's right to play.
Claudia Gray
Lead Educator
Claudia is a registered primary teacher with a strong science and mathematics background. Claudia is passionate about creativity, project-based learning, inquiry, future-focused skill development and compassionate communication. She enjoys the fun and wonder of discovering new learning through hands-on, practical experiences, and students working together. Claudia builds positive, respectful relationships with students, and honours them as autonomous individuals. She is currently working towards a Postgraduate Certificate in Digital and Collaborative Learning. It is important to Claudia to be well informed by current and robust research and to continually extend her knowledge. Outside of teaching, she works with teenagers and adults to develop their skills in compassionate communication. Claudia feels most at home at the beach or in the alpine environments of Nelson and its surrounding areas, where she grew up.
Jemma Pritchard
Marketing Star
Jemma is our social media and marketing star who works alongside Sabrina to spread the word about Ako. She is a third-year Business student double majoring in Market Insights and Management, with a passion for sustainability and environmentalism.
One of the things she loves most about being at Ako is working alongside such inspiring wāhine, that share a common goal to set foundations for an ongoing love of learning.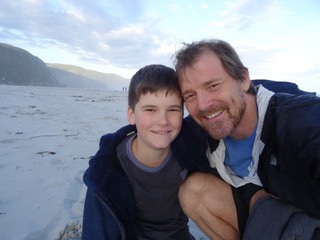 Lance grew up on a small wooded farm near the shores of Lake Superior in northern Michigan, USA. His son Eli, now 12 years old, has grown up in Devonport.
Lance is a New Zealand registered Early Childhood teacher. After eight rewarding years teaching with the team at Devonport Community Creche, he recently resigned and is pursuing postgraduate Dance Studies at the University of Auckland while working part-time at Ako. Lance is a passionate teacher, musician, and improv dancer.
He also greatly enjoys being a parent and community/ environmental activist. Previously, he worked in conservation ecology, field botany, and tertiary teaching. He has facilitated experiential learning with diverse age groups and on a range of science, outdoor education, and music topics.
Rita Pontes
Creativity officer
Rita, a trained yoga instructor and a qualified Graphic and Interior Designer, is passionate about creativity, education and mindfulness. Along with her family, she moved to New Zealand from Brazil to live a more conscious life. As a mum of two teenage girls, Rita saw the opportunity to do things differently and co-founded Conscious Kids. Her experience running various outdoor programmes inspired by Forrest kindergarten principles as part of Conscious Kids, is invaluable to the team.
Content producer and innovator
Shivani Karan is an educator and filmmaker. She has lectured at the Auckland University of Technology for 4 years. Her personal journey has been to find purposeful outlets for creative energy and provide marginalised people opportunities for meaningful engagement with technology. Her social enterprise Lane25 has been running Digital media workshops for marginalized youth in Auckland for the past five years. Having struggled at school and seeing how natural nurturers/teachers like her mum wanted to share their gift but are not adequately supported in the mainstream educational system, Shivani wanted to make a difference to the education system.
Advisory Board
Sarah Aiono
Director of Longworth Education
(MEd) (PGDipEd) (BEd Tchg)
Doctoral Student (Massey University)
New Zealand Registered Teacher
Accredited Incredible Years Facilitator and Coach
Sarah is currently involved in doctoral research examining effective teaching and learning strategies within a play-based classroom environment. She has extensive experience mentoring and facilitating teacher professional learning both as an RTLB and Professional Learning Facilitator. She currently works with children 7-10 years of age learning through play at Longworth Forest. Sarah is particularly passionate about building children's socio-emotional competencies for success in adulthood.
Tineke Sutton
Tineke is deeply passionate about finding ways of exploring and sharing respectful partnership between adults and children and celebrating infants, toddlers and children as capable human beings. She knows that this is the key to growing a more joyful, peaceful and loving world.
Tineke's teaching has included many years of teaching music in secondary, intermediate and primary schools, aswell as an Ed. Co-ordinator for the Auckland Philharmonia Orchestra. In 2011, with this kite of experiences Tineke entered into partnership with her mother and Oma Rāpeti Early Learning Centre was born with the dream to create a truly nurturing place for families and teachers.
Tineke completed a Graduate Diploma in Early Childhood at Auckland University and discovered our wonderful early childhood curriculum, Te Whāriki. She also completed Dance with me in the Heart training with Pennie Brownlee where she discovered more about the wonderful work of Dr. Emmi Pikler and Magda Gerber.
Tineke's vision to support the wider parenting community was shared by Jana To and they went on to start parent infant/ toddler classes and a playgroup two years ago.
Tineke is a mother to Mia (16) and Miles (8), and wife to trombonist Tim Sutton. She is the eldest daughter of six children and was fortunate to grow up in the town of Thames where beaches, rivers, fields, bush and even old gold mines were her childhood playground!
"Now thankfully with the creation of Ako, I feel there is a next step in learning that I will be able to highly recommend. I feel so privileged to be able to support the amazing team that is undertaking this exciting new direction in education in Aotearoa."
"You must be the change you want to see in the world." - Mahatma Ghandi
Dr Amanda Lloyd
Dr Amanda is a passionate outdoor enthusiast who has always spent her time hiking, beach roaming, on a bike, in the ocean and generally enjoying the outdoors. Amanda is a primary school teacher with 17 years experience in classroom and in leadership roles. Her time spent in nature and teaching career have led her into a field that develops her life pursuits, into immersive nature opportunities for others. Amanda is a founding director of "Outdoor Connections" where she is an educational consultant and delivers workshops to children, parents and educators.
Amanda's PhD focused on the advantages of place-based outdoor learning within the primary school curriculum. She initiated the nature education network for the Australian Association of Environmental Education. Amanda is a spokeswoman for Planet Ark promoting outdoor learning in schools, has been the Australian Wild magazine columnist for all things 'children in nature', writes for academic publications and has presented at numerous international conferences.
To find Amanda best go outside and look for a group of dirty, laughing and excited children playing with sticks and exploring the bush. She will be the one most likely covered in clay, dirt or sand.
Ann Langis
Ann is a Co-Director of Conscious Kids and is a Trustee on the board of the NZ Playcentre Federation. She has over 20 years' experience working with children, and holds a master's degree in Education from Harvard University. As a child, she watched her creative, free-spirited brother struggle with school from his first day until dropping out at age 16. In her years teaching at a low decile primary school, Ann realised that a standardised schooling system does not work for every child and she focused on ensuring that every child is heard and seen as an individual. She was gratified to find that once trusting relationships were established, the learning flowed naturally. Even for children who had previously been labelled as having severe academic and/or behavioural problems. Over the past 12 years, she has been raising her own three children as part of the New Zealand Playcentre movement and has become a sought-after facilitator of parent education courses, with particular expertise in positive behaviour management. Her strong interest in nature play led to a programme supervisor role at Conscious Kids, and she sees involvement with Ako as the logical next step, taking the powerful philosophies of both Playcentre and Conscious Kids into the primary education sector.